Gene Therapy PTC-AADC Provides Benefits for 5 Years in Children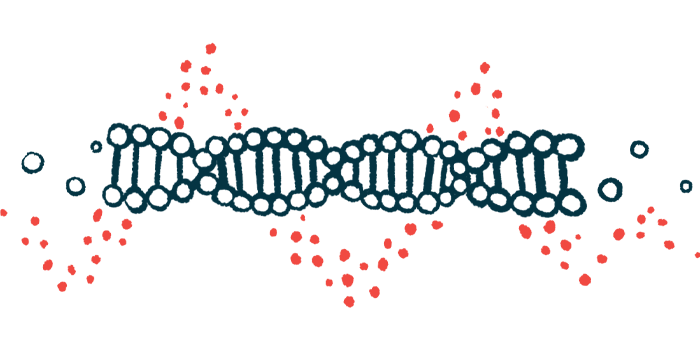 The investigational gene therapy PTC-AADC (eladocagene exuparvovec) provides lasting and meaningful improvements in motor and cognitive function in children with aromatic l-amino acid decarboxylase (AADC) deficiency, updated results from three clinical trials show.
The greatest improvements were observed in the youngest of the 26 treated children — none of whom had full head control at the study's start — with three of them gaining the ability to walk freely without assistance following gene therapy. Another little girl was able to talk a few years after receiving treatment.
"Rapid improvements in motor and cognitive function occurred within 12 months after gene therapy and were sustained during follow-up for [more than] 5 years," the researchers wrote.
The study, "Long-Term Efficacy and Safety of Eladocagene Exuparvovec in Patients with AADC Deficiency," was published in Molecular Therapy.
AADC deficiency is a genetic and neurometabolic disease caused by mutations in a gene called DDC, which provides instructions to make the AADC enzyme. AADC is necessary for the production of dopamine and serotonin, two neurotransmitters — chemical messengers used by nerve cells to communicate with each other.
Low levels of both dopamine and serotonin in patients with AADC deficiency highly disrupt the communication between the brain and other parts of the body, which leads to physical and mental developmental delays from a young age, usually beginning in early infancy.
PTC-AADC is a gene therapy being developed by PTC Therapeutics that uses an engineered viral vector to deliver a non-mutated version of the DDC gene to cells in the body, allowing them to produce their own AADC. It currently is under regulatory review by the European Medicines Agency.
The therapy is surgically delivered into the putamen, a brain region involved in motor and non-motor functions — such as language, emotional processing, and chronic pain — and that is directly impacted by the loss of dopamine production.
Three clinical trials have evaluated the therapy: a Phase 2b trial (NCT02926066) that began in 2016, a Phase 1/2 trial (NCT01395641) started in 2014, and a compassionate use study, in which the treatment was made available for these seriously ill patients because no other medicines are approved. Initial results have shown that PTC-AADC is well-tolerated and improves motor function in children, but longer-term follow-up is needed to evaluate the therapy's safety and efficacy over time.
Now, a team of researchers in Taiwan presented longer-term results from the trials, which altogether involved 26 children treated at a mean age of 4.1 years (range 1.7 to 8.5 years), who had been followed for an average of 5.4 years. All patients had completed at least their one-year follow-up assessments.
In general, the three trials employed the same treatment protocol, with the exception of five patients in the Phase 2 trial who received a dose of 2.4 × 1011 viral genomes (vg), instead of the 1.8 × 1011 vg dose given to all other participants.
Except for one patient, who identified as Caucasian/Thai, all others were of Chinese descent, and the c.714+4A>T mutation represented 80.8% of all mutated DDC genes.
Across all three trials, two universal tools were used to evaluate the children's motor skills over time: the Peabody Developmental Motor Scales–Second Edition (PDMS-2), which focuses on fine motor function, and the Alberta Infant Motor Scale (AIMS), which measures gross motor skills.
In the compassionate use study, researchers used the Comprehensive Developmental Inventory for Infants and Toddlers (CDIIT) to evaluate cognitive function and language ability, while the other, subsequent trials used the Bayley Scale of Infant and Toddler Development, Third Edition (Bayley-III) for that purpose.
All patients showed improvements in motor and cognitive outcomes over time, the results demonstrated. Indeed, the researchers noted that PTC-AADC was found to have a "remarkable therapeutic effect."
Of particular note were the PDMS-2 scores, which were "very low" before the gene therapy — with a mean of 10.4 — and rapidly and significantly increased to 80.5 after one year, 114.5 at two years, and 116.1 three years after PTC-AADC.
AIMS scores also increased from 1.8 at the study's start (baseline) to 18.8 at one year, 26.9 at two years, and 24.5 five years after treatment.
While none of the children had full head control at baseline, three patients gained the ability to walk without assistance — a milestone achieved about two or three years after receiving the gene therapy — and one of them could even run freely at the five-year assessment.
Cognitive function and language ability also significantly improved from the study's start at all three evaluations, with the greatest increases being seen in the first year.
One patient was able to talk 3.4 years after the gene therapy, reaching a 60-point score on her language abilities at the age of 5. For comparison, a healthy 3-year-old child usually scores about 70 on the test. Many children with AADC deficiency are non-verbal, or have speech and language delays.
The researchers noted that the child able to talk was one of the youngest patients entering the trials, who received the therapy at age 1.7 years.
Further analyses demonstrated that patients receiving PTC-AADC experience a significant increase in homovanillic acid or HVA, a product of dopamine metabolism. That HVA was in the children's cerebrospinal fluid — the liquid surrounding the brain and spinal cord — and indicates an increase in dopamine production. However, no signs of serotonin increase were noted.
PET imaging scans also showed signs of AADC activity in the putamen, which overall indicated that the gene therapy was delivering the DDC gene to cells in the region and increasing dopamine levels, as intended.
In addition, the children's body weights increased following treatment, and their symptoms of AADC deficiency — bad mood, excessive sweating, inability to control temperature, and oculogyric crises, a common eye movement disorder in patients with AADC — were less severe after treatment, according to the patients' mothers, who served as their main caregivers.
Caregivers also reported a significantly better quality of life for themselves.
An important finding from the study is that younger age at the time of treatment is significantly associated with greater and faster motor improvements after PTC-AADC, indicating that the gene therapy should be delivered to patients as early as possible to induce the greatest benefits.
"This is likely related to a greater degree of neuronal plasticity in younger patients," the researchers wrote, speaking of the brain's ability to rewire itself in response to stimulus.
Also, levels of HVA after treatment correlated with greater PDMS-2 scores, suggesting that a greater increase in dopamine production will ultimately result in better outcomes. A moderate correlation also was seen between pre-treatment HVA levels and PDMS-2 scores.
Regarding safety, 24 patients experienced a total of 35 dyskinesia events — involuntary, erratic, writhing movements often associated with dopamine-increasing therapies, which are common among patients with Parkinson's disease — but these were more severe in older children and resolved within 10 months of treatment. Most patients also developed transient immune responses against the viral vector, which may have compromised the overall efficacy of the gene therapy.
Two patients died during the trials, one from brain inflammation due to influenza B infection, and another from aspiration.
"Overall, the current study demonstrated the safety and durable efficacy of eladocagene exuparvovec for AADC deficiency," the researchers concluded.