A Beautiful Destination and Its Detours
As a young boy, I used to lie in bed and play in my room imagining that I was a hero or that I had accomplished something great.
Maybe everybody has had dreams like this. In my daydream, I was always in some sort of war or great battle, probably because I looked up to men and women in uniform. I loved hearing their stories or reading about a historical event where someone had succeeded in some great challenge against overwhelming odds.
What I didn't realize then was that we don't get to pick what our great challenge will be, or when we will face it. It's for these reasons that challenges are challenges. When my great challenge came, I tripped and fell face first. My perfect journey took an extensive detour.
Grand plans
My wife, Judy, and I had just accepted two rewarding teaching jobs in Singapore. She would be providing learning support, while I would coordinate a language development program at a prestigious international school. With the birth of our daughter, Rylae-Ann, everything appeared perfect. I felt so proud, and I had grand plans for my family.
But something was wrong with Rylae-Ann. My 3-month-old daughter wasn't moving, and she developed intense seizure-like spells every three days that lasted for hours. During these spells, she writhed in pain and twisted her limbs. Her eyes crossed or rolled up into her head. Things were not perfect. Everything was beginning horribly.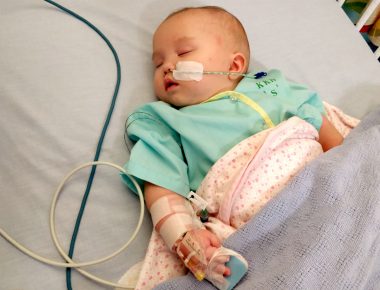 We tried a number of treatments, but nothing worked, and Rylae-Ann continued to suffer. It was a relief to be able to name and identify what she was suffering from, but even that moment was short-lived because we quickly learned there was no cure.
Rylae-Ann had aromatic l-amino acid decarboxylase (AADC) deficiency.
AADC deficiency is a little-known neurotransmitter disorder, and those who have it are unable to produce dopamine and serotonin, leaving them with low muscle tone, movement disorders, and vicious spells that can last for hours. Without muscles, eating is nearly impossible, and without serotonin, sleeping is intermittent.
What comes next
My wife and I didn't sleep or eat much at first, either, and I would lie awake some nights wondering what the odds were of this happening. Judy and I met in Thailand, but I am from the U.S., and she is from Taiwan. We didn't know it, but we were both autosomal recessive carriers of an ultra-rare disease. Even more strangely, Rylae-Ann had a 75% chance of not expressing AADC deficiency.
Because rare diseases weren't covered by our insurance in Singapore, we found jobs in Thailand, where we also had family and friends.
Rylae-Ann is now 3 and is making great progress. We all are. We have met some wonderful people whose children are living with illnesses, and we see how they support their young ones and never quit on them. These kids are superheroes to me.
I have never taken my privileged life for granted, but I also never realized how fragile it was. The more of these children I met, and the more I saw how determined their families were to care for them, I felt blessed to be there with them, to walk alongside them. I stopped trying to calculate the odds of this "happening to me" and began to think of this as something that was destined. There was only one possibility, and this was it.
What is up to me is how I choose to live this journey. I choose to meet this challenge head-on.
***
Note: AADC News is strictly a news and information website about the disease. It does not provide medical advice, diagnosis, or treatment. This content is not intended to be a substitute for professional medical advice, diagnosis, or treatment. Always seek the advice of your physician or other qualified health provider with any questions you may have regarding a medical condition. Never disregard professional medical advice or delay in seeking it because of something you have read on this website. The opinions expressed in this column are not those of AADC News or its parent company, BioNews, and are intended to spark discussion about issues pertaining to aromatic l-amino acid decarboxylase deficiency.