Reducing Our Daughter's Drooling by Strengthening Her Oral Muscles

As we prepared for the arrival of our daughter, Rylae-Ann, we expected some cute baby drooling. We were even excited about donning the burpee cloth as a sign of parenthood. However, her drool came flowing beyond what we ever imagined.
Before receiving a diagnosis, we weren't too concerned about her drooling and did our best to manage it. Later, we learned she had aromatic l-amino decarboxylase (AADC) deficiency and that drooling is a symptom.
In addition to excessive drooling, we also had to contend with excessive sweating. We constantly changed Rylae-Ann's shirts throughout the day, yet her clothes remained noticeably wet due to both issues. We didn't like damp clothes on our daughter, but we couldn't have her cycle through her entire wardrobe every day. We needed to take steps to manage her drooling better.
The problem with drooling
Like excessive sweating, drooling is also due to autonomic dysfunction associated with AADC deficiency. When children don't have complete control over their mouths or swallowing muscles, they'll exhibit excessive drooling.
The issue began with our personal feelings about how her clothes looked. However, we then noticed she would develop a rash around her mouth, and we became more concerned. Later, we learned that in some cases, excess saliva could even be aspirated into our daughter's lungs, leading to pneumonia.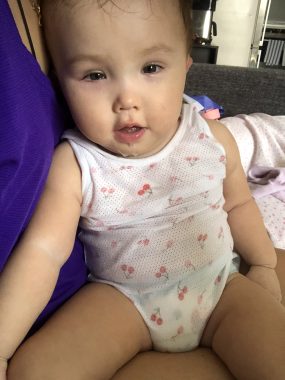 Dab, don't wipe
In an effort to impede the drool, we always had a soft cloth at the ready to wipe the excess away. However, even the soft cloth would eventually cause skin irritation due to the number of times we were wiping her face.
Then we learned it was better to dab and blot the drool away. If a rash began to develop, we applied a barrier cream like Vaseline to her lower lip and chin.
Handkerchiefs and accessories
Instead of frequently changing shirts, bibs were a great accessory that helped to keep her shirts dry. We still had to change these frequently, and some of the drool would leak through, but for the most part, it did the trick. A dark-colored bib worked best when going out, as the wetness wasn't very noticeable.
As Rylae-Ann got older, we didn't like the look of the bib. We upgraded her ensemble with handkerchiefs, scarves, and bandanas. These were stylish alternatives to bibs. They looked like they were more for fashion purposes.
Massage
Early on, my wife used a combination of techniques to provide our daughter with regular facial and oral massage. She learned the massage techniques from our daughter's speech therapist, as they were recommended for building facial muscles to eventually develop speech.
The speech therapist acknowledged Rylae-Ann did have excessive drooling, but said it was a consequence of having low muscle tone in her facial area. This meant feeding, talking, and managing saliva were very difficult.
We would also improve feeding by working on her speech goals. By being mindful during feeding, Rylae-Ann could better swallow, which helped her drool less. Facial and oral massages were simple activities we felt confident doing without much training.
Speech therapy
My wife is a learning support teacher and knew the benefits of early intervention speech therapy. We dreamed of having our daughter talk, but knew it wouldn't happen immediately. In the meantime, we could begin by addressing her drooling and feeding with a speech therapist.
Initially, the goal was to improve jaw stability, tongue strength, and mobility. This helped our daughter become aware of her mouth and eventually learn to close her lips fully. With muscle control beginning, Rylae-Ann could reduce her drooling and made her first of many steps toward finally speaking.
Speech therapy took years, but the techniques did improve swallowing and decrease drooling. Later, we added specialized oral tools that help to stimulate areas outside and inside the mouth. We still use the device to continue strengthening Rylae-Ann's tongue positioning and improving her lip closure.
Conclusion
Though the drooling began as a minor annoyance, we learned that managing it could help our daughter avoid hospitalizations and achieve her speech therapy goals. Eliminating drooling was a crucial first step in eventually helping our daughter to talk. After gene therapy, we continued facial massage and speech therapy. It's a practice that must be continued long-term to achieve significant milestones.
With excessive saliva, we remain vigilant since it can flow into the trachea and the lungs, which can lead to severe complications. Our daughter's neurologist noted some medications prescribed for AADC deficiency also can have the unintended side effect of drying out the mouth. We never had to rely on medication, but our journey did require a lot of time and patience to achieve results.
---
Note: AADC News is strictly a news and information website about the disease. It does not provide medical advice, diagnosis, or treatment. This content is not intended to be a substitute for professional medical advice, diagnosis, or treatment. Always seek the advice of your physician or other qualified health provider with any questions you may have regarding a medical condition. Never disregard professional medical advice or delay in seeking it because of something you have read on this website. The opinions expressed in this column are not those of AADC News or its parent company, BioNews, and are intended to spark discussion about issues pertaining to aromatic l-amino acid decarboxylase deficiency.